Have you tried Google search box on your blog? For most blogger, adding such feature is just a waste of space on their blogs. Although you can earn through it, but it's not that effective if your blog is not that popular as the A-list bloggers like John Chow and ShoeMoney. Anyway, if you still like having one for your own blog, then try Blogbar.





Blogbar is a free widget developed in exchange for the typical search box we see on websites and blogs. Putting one on your own blog or website will allow your visitors to search your own webpages, search the web and the blogosphere with major blog search engines. Naturally adding cool service for the visitor's convenience. The widget is available on different themes and styles. Choose from the basic colors or try the themed templates like corporate, aqua, jungle or Mac OS. Aside from that you can choose the language you prefer to use, defining the same language that the search engines will provide.

Blogbar sample widget: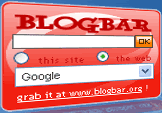 Blogbar is more than just a search box, it can also deliver your microblogging activity directly to your blog or website. You have the choice to enable this feature if you have an account on either Twitter, Jaiku, Pownce or Poodz. Everytime a visitor pointed the cursor below the Blogbar, the latest message on your microblog account will show up. So your visitors will be updated of your current activity at the moment. This feature, however, will only work if your microblog is open to the public.

Other available search box themes:




Perhaps the best thing I like about Blogbar is that you can insert Adsense code on it. That means the owner of the blog can still earn revenue if somebody use the Google search engine and click on the ads available. This is not a profit sharing scheme, so Blogbar has no shares of the revenue that the Adsense code owner has earned. Definitely, a great way to monitize your search box with 100% earnings returned.

So if you want a nice looking search box on your own blog, then don't hesitate to use Blogbar for a change.

Summary:
1) There is no need to sign-up to get this free widget.
2) Just follow the 4 simple steps and you can have your own Blogbar widget in minutes.
3) You can enable your microblogging program if you want too.
4) Earn from your Adsense account with this dynamic search box.
5) Get the code and paste it on your blog or websites.